Fife Lodge Hotel & Restaurant
Fife Lodge was built in 1909 as the factor's residence for the Duff House Estate. It was converted into a hotel in the early 1960s but retains its grand Country House feel. The building is set in beautiful private grounds with stunning views of the local countryside, making it an ideal venue for weddings.
Located in the historic seaside town of Banff, Fife Lodge is the perfect hotel for visitors to the North East of Scotland. Golf, fishing, walking, castles, whisky and adventure, or just a quiet break in a beautiful area! Long golden sandy beaches and water sports are some more attractions of Banff and the surrounding villages.
With produce from the rich fertile Buchan land and fantastic seafood from the North Sea, if you have a taste for delicious food you are sure to find a dish to suit in our restaurant. The Fife Lodge Bar & Restaurant are open every day to non-residents for both lunch and evening dining.
Fife Lodge offers a choice of accommodation. All our rooms are en-suite with showers; some have baths.
All rooms are equipped with flat screen TVs, hospitality tray and hair dryers. Irons and ironing boards are available on request.
We have singles, doubles, twin rooms and a suite (two bedrooms, living room and a bathroom)
Rooms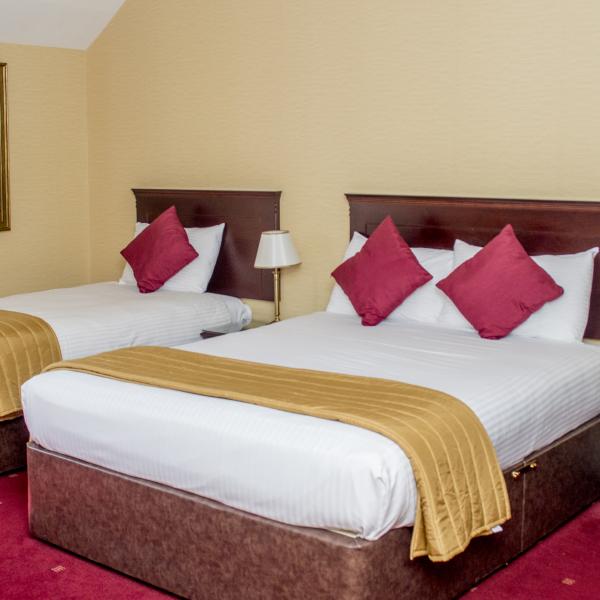 Room 1
A spacious room with a view across the lawn to the front of the hotel, features include:

• Double Bed and Single Bed
• En-suite bathroom (shower)
• Flat screen television
• Hospitality Tray
• Towels
• Selection of toiletries
Room 2
A comfortable room with double aspect views across the lawn to the front of the hotel and across the Deveron Valley, features include:

• Double Bed
• En-suite bathroom (bath with shower over)
• Flat screen television
• Hospitality Tray
• Towels
• Selection of toiletries
Room 3
A smaller room with a view across the lawn to the front of the hotel, features include:

• Double Bed
• En-suite bathroom (shower)
• Flat screen television
• Hospitality Tray
• Towels
• Selection of toiletries
Room 4
A very spacious room with a wonderful view across the lawn, over the Deveron Valley and up the hill beyond, features include:

• Double Bed and 2 Single Beds
• En-suite bathroom (shower)
• Flat screen television
• Hospitality Tray
• Towels
• Selection of toiletries
Room 5
A small room with a wonderful view across the lawn, over the Deveron Valley and up the hill beyond, we recommend this room for single travellers. Features include:

• Double Bed
• En-suite bathroom (shower)
• Flat screen television
• Hospitality Tray
• Towels
• Selection of toiletries

Room 6
A very spacious room with a magnificent view across the lawn, over the Deveron Valley and up the hill beyond, features include:

• Superior Double (Bridal Suite)
• Huge en-suite bathroom (with corner bath and large shower)
• Flat screen television
• Hospitality Tray
• Towels
• Selection of toiletries
Room 7
A comfortable room for one, two or three people, features include:

• Double Bed and Single Bed
• En-suite bathroom
• Flat screen television
• Hospitality Tray
• Towels
• Selection of toiletries
Room 8
Our suite comprises of two bedrooms, bathroom and a sitting room, features include:

• One bedroom with a double Bed the second bedroom with three Single Beds
• En-suite bathroom (shower)
• Flat screen television (in double room and sitting room)
• Hospitality Tray
• Towels
• Selection of toiletries