Cowden Farm Holidays
Opened in July 2020, and on a list to be graded when COVID restrictions allow, Cowden Farmhouse is the perfect choice for family and friend groups. Located 7 miles south of the lovely seaside town of Stonehaven, Cowden Farmhouse is accessed by a half mile long, private drive, in the heart of our own farmland, and has only our herd of Icelandic Horses and flocks of sheep for neighbours!
Dog friendly and child friendly, the extensive mature gardens are great for exploring, and are home to a summer house, gas bbq, firepit, hammocks and outdoor dining furniture - all making the most of the unsurpassed peace, privacy and superb far reaching views.
Our canine guests will appreciate the exercise paddock, over 300 acres of ground for on-lead walks, and their very own sofa, placed in the sun lounge for optimum sunshine and views! Our human guests will appreciate the attention to detail, stylish furnishings and spacious surroundings. Cowden Farmhouse can comfortably accommodate 8 guests and 2 clean, well behaved dogs.
Rooms
Ground floor king
A lovely ground floor room at the front of the house, directly opposite the family bathroom, with plenty of storage for luggage, and a travel cot - if required. A supremely comfortable bed, luxurious bed linen and sunshine yellow decor means whatever the weather, you'll wake up feeling happy and energised!
Hairdryer and towels provided.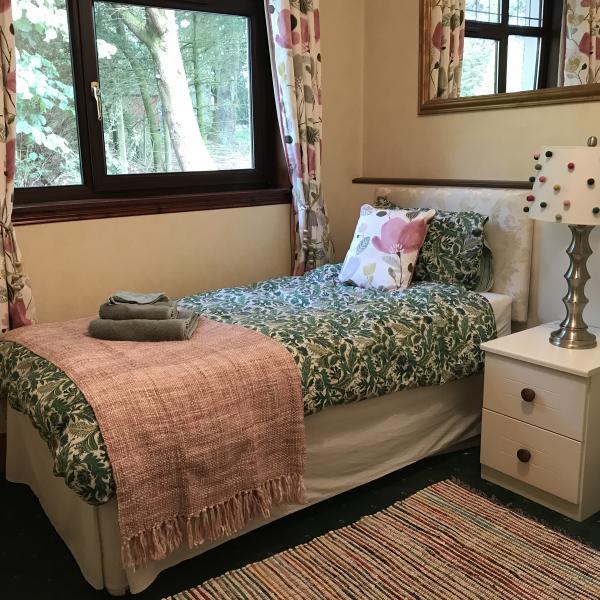 Ground floor single
Adjacent to the family bathroom and opposite the king room, this lovely comfortable wee room has great storage for all your luggage, and the opportunity to see the resident (wild) roe deer and pheasants passing through the wooded area at the rear of the house.
Towels provided.
Upstairs king
The Hypnos king size bed, luxurious bedding and stylish unique pieces of furniture are all special, but the main talking point in this room is always the spectacular views!
Towels and hairdryer provided.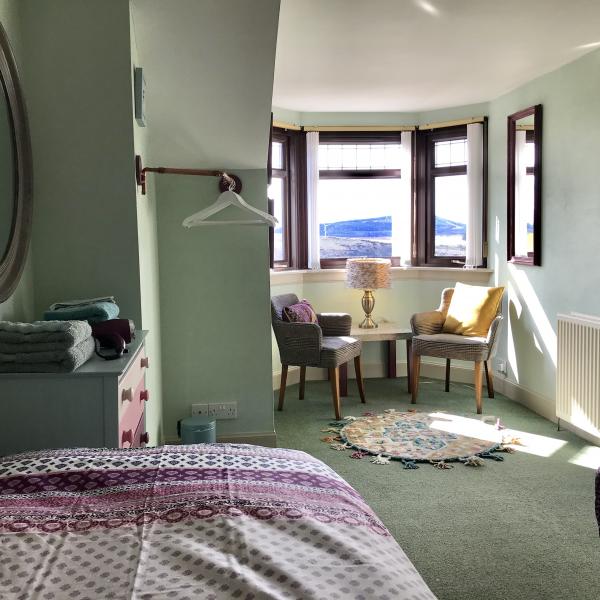 Upstairs twin
Comfortable Tempur beds, unique and original furniture and fittings, and a cosy seating area make the most of the beautiful far reaching views.
Towels and hairdryer provided.

Between this room and the upstairs king room is a bright, airy shower room.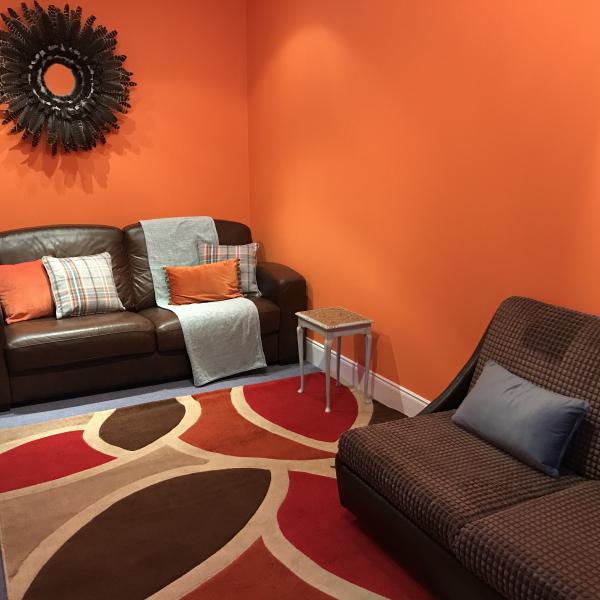 Ground floor multi purpose room.
Still in the process of being furnished, this vibrant room is accessed off the main lounge. It has 2 quality sofa beds, enabling it to be used as a bedroom (by arrangement) or additional living space.