Jurys Inn
Located on the first floor, the Jurys Inn Aberdeen Union Bar boasts stunning city views with floor to ceiling windows overlooking the busy Union Square, Guild Street and the surrounding beautiful granite buildings. The atmosphere here is relaxed and welcoming with our friendly and efficient service complimenting the food on offer. Our diverse menu is is updates seasonally and included daily specials and chargrilled steaks. Choose from cool, crisp, fruity or full-bodied wines to accompany your dish and finish is all off with a delicious dessert. In our bar we serve a wide range of blended and malt whiskies as well as beers and other beverages. Jurys Inn Aberdeen proudly serves Costa coffee along side a selection of home baked cakes and sweet treats, which means you can expect a great coffee every time.
Jurys Inn Aberdeen has 203 bedrooms in total. More spacious than you'd expect, rooms can accommodate three adults or two adults with two children or just one guest. The well lit spacious feel is clearly designed around our guests' comfort. But that's not the only little extra....
-Free WiFi throughout the hotel
-Flat screen TV with Freeview
-Aircon
-Hairdryer
-Tea and coffee refreshment dock
-Well lit work area
Executive rooms have all of the above features and more:
-Luxurious King Beds
-Sky TV package including movies and sport
-In room safe
-Daily newspaper
-Mineral water and biscuits
-Early check in at 12noon and late check out to 2pm
Rooms are also available for guests with reduced mobility.
Rooms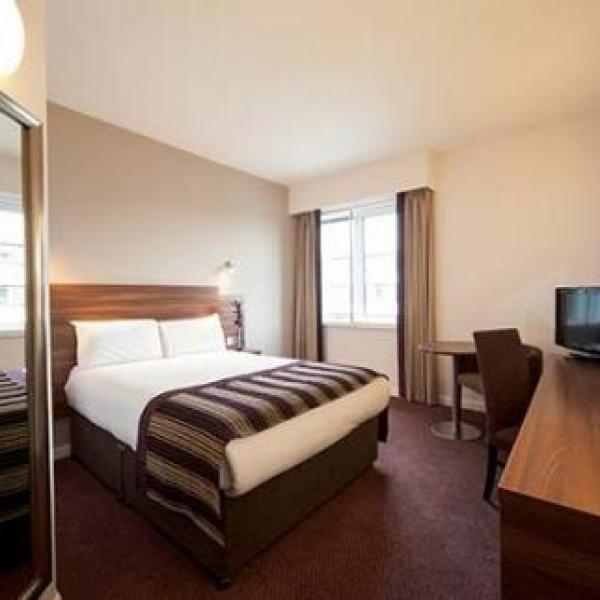 Standard Room
More spacious than you'd expect, rooms can accommodate three adults or two adults with two children, or just one guest. The well lit, spacious feel is clearly designed around our guests' comfort. But that's not the only little extra…
• Spacious room for up to 3 adults or 2 adults/2 children sharing
• Free WiFi throughout the hotel
• Flat screen TV with Freeview
• Air-con
• Hair dryer
• Tea and coffee refreshment dock
• Spacious bathroom with complimentary toiletries
• Spacious well lit work area
• Selection of pillows available for your comfort
• Rooms available for guests with reduced mobility

Executive Room
The well lit, spacious feel is clearly designed around our guests' comfort. But that's not the only little extra…
• Spacious room
• Free WiFi throughout the hotel
• Flat screen TV with Freeview
• Air-con
• Hair dryer
• Tea and coffee refreshment dock
• Spacious bathroom with complimentary toiletries
• Spacious well lit work area
• Selection of pillows available for your comfort
• Rooms available for guests with reduced mobility
Executive Rooms – have all of the above features and more:
• Luxurious King Beds
• Sky TV package including movies and sports
• In room safe
• Stocked mini fridge
• Daily newspaper
• Luxury toiletries
• Mineral water and biscuits
• A selection of Twinning's teas, coffee and hot chocolate
• 10% off Food & Beverage
• Early check-in at 12 noon
• Late check-out to 2pm