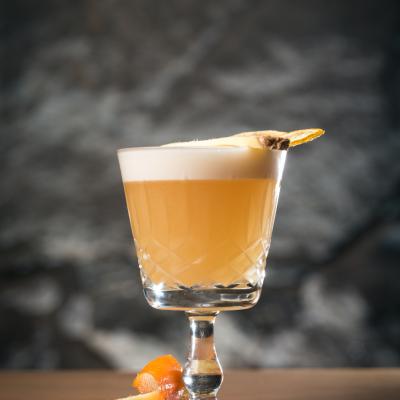 Your festive cocktail recipe with a local twist
27 November 2018
If ice-cold, frappe-style drinks are the preserve of the summer, then winter demands just the opposite, hot and comforting.  G&T's can sometimes feel more apt on a terrace or as a pre-dinner palate-whetter but don't discount gin as a great winter drink, marrying many of the same familiar flavours and botanicals.  Waitrose have a great sloe berry and juniper cordial that I'll be using for both sweetening and flavouring this hot, mulled serve, adding traditional Christmas spices such as cinnamon, clove and star anise to the mix.
The UK also produces a fantastic harvest of apples around late autumn and my small orchard in Aberdeenshire (I have three young trees!) never fails to disappoint.  Lengthen the punch with apple juice, or even Appletiser if you prefer a bit of fizz.  Always buy pressed juice for that acidic tang though. Here's the recipe:
Hot Gin Punch
25ml Jindea Single Estate Tea Gin
15ml Sloe Berry & Juniper Cordial
50ml Cloudy Apple Juice
Infuse with Cinnamon / Star Anise / Cloves / Cardamom / Vanilla / Orange Peel
Method: Add all ingredients, including spices, to a pot/urn and gently heat until simmering.  Serve when hot.
I'll also have the pleasure this year of co-hosting a storytelling-meets-cocktail masterclass with Glen Garioch Distillery for their annual 'Rare Fayre', a Christmas market meets community gathering taking place on Saturday 1st December.  Spanning over 221 years of rich local heritage, this Oldmeldrum-based single malt whisky producer has seen more and more visitors coming to the distillery to try their unique Highland malt.  This recipe takes inspiration from the Manson family's wyverie, their first source of income when the distillery was built.  Their family business was so successful, they had an office in Amsterdam, Holland.  Here we're blending the toasted oak / coffee / dried fruit notes of their 12 Year Old Single Malt with an old-world style of gin, Genever, King's Ginger in a nod to the monarch at the time, George III, and some honey and lemon to balance out the blend and give us a nice balance of sweet and sour.
Manson Dutch Sour
30ml Glen Garioch 12yr
10ml Dutch Genever
Bsp Honey
10ml King's Ginger Liqueur
25ml Freshly-Squeezed Lemon
Egg White (optional)
Method: Add all ingredients to a shaker and shake with ice.  Strain and serve up or over cubed ice.
Tickets to the cocktail storytelling are available online here.  There are two storytelling sessions, at 12pm and 2.30pm.  Spaces are very limited so grab them whilst you can.
All that's left to say is enjoy both winter cocktails in moderation but don't hold back on the festive cheer this year!  Merry Christmas from all at 10 Dollar Shake. x
By Adrian Gomes