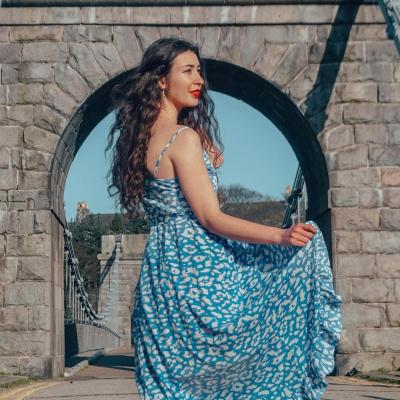 Travelling Aberdeenshire by bus
25 June 2021
Living in Aberdeen for the past 5 years has given me the opportunity to discover the area and as I don't drive, I have been using the bus to get to all the amazing locations around Aberdeenshire. This also helped me write my eBook "How to travel Aberdeenshire by bus" which you can find here.
I recently went to rediscover two of my favourite towns, Banchory and Ballater, and had a lovely solo day trip.
Getting there
I took the 201 bus which runs along the Royal Deeside and got the Bluebird Explorer Day Ticket. It costs £14 which you can use to get on and off all the Stagecoach buses all over Aberdeenshire as much as you want for the day.
Banchory
My first stop was Crathes Castle, a 16th-century castle located about an hour away on the bus from Aberdeen. I walked around the grounds and the beautiful walled garden and of course took loads of photos.
Next, I went to Buchanan Bistro where I had an amazing vegan shakshuka with tofu and then a duo of vegan cheeses. I also had a decaf oat latte while looking at the beautiful surrounding views.
After the delicious brunch, I walked around Banchory, which is a lovely town surrounded by rolling hills and countryside right next to River Dee. There are many things to do here including the mural trail, hiking, mountain biking, canoeing, archery, golf, gliding, putting and more. Some popular walks are Scolty Hill or the River Dee Walk.
Ballater
Later, I took the bus to Ballater which is located in the Cairngorms National Park. There's a big variety of things to do here including hiking, golfing, skiing, as well as small local businesses such as restaurants, cafes and shops.
I grabbed a vegan chocolate ice cream from Shorty's and walked around, taking in the mountain views.
I then visited the VisitScotland iCentre where I picked up a map of the area as well as some pretty postcards to send to my sister in Greece.
For dinner, I had an incredible meze platter and a margherita pizza which the staff kindly adjusted and made vegan for me, at Rocksalt and Snails. They have recently moved to a new location with a stunning outdoor patio.
To round the evening off I walked up Craigendarroch Hill, which means "Hill of Oaks". I sat on the bench at the top and just admired the spectacular landscape.
Make sure you also check out the farmers' markets at these locations. You can find out when they are by clicking here.
I am so grateful to live near so many beautiful places. Whether you live here or you are just visiting, Aberdeenshire has some amazing towns with plenty of things to do for everyone!