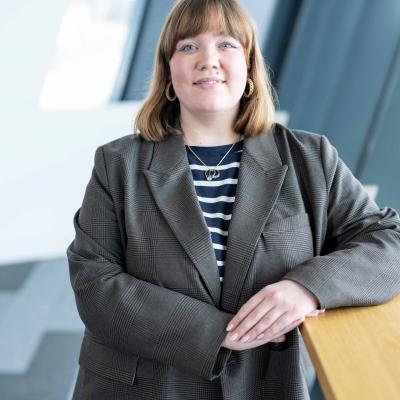 Terrifying tales from the North-east of Scotland
20 October 2022
We're commemorating the scariest time of year by sharing the grizzliest, ghastliest tales that Aberdeen and Aberdeenshire has to offer! Grab your popcorn, and a cushion to hide behind, and enjoy these stories of witches, haunted castles, paranormal activity and more.
Creepy castles
Castle Fraser is said to be one of the most haunted castles in Scotland, and was investigated by TV's 'Most Haunted'. The ghost that haunts these castle grounds is that of a princess who was murdered in the castle whilst she slept in the 'Green Room'. Evidence of this gruesome case can still be seen today, as the steps of the castle are now covered in wooden panelling used to cover up the blood-stained stone.
Image provided by Hidden Scotland.
A ghost spotted by Queen Victoria herself, The Green Lady is alleged to be one of the Burnett Laird's daughters who had a relationship with a stableboy and fell pregnant. The young woman hid the pregnancy for months, yet there was no way to cover this up once she had given birth.
Her father flew into a fit of rage after this discovery – shortly after, the woman and the baby both disappeared. This phantom is said to appear as a woman carrying a baby, or a green orb that can be seen floating into the fireplace.
The story may just have some merit, as during renovations in the 1800s workmen discovered the bones of a baby underneath the fireplace.
There's no shortage of paranormal activity at this ancient castle, including the ghost of a monk. The daughter of the castle's owner woke from a nightmare that there was a body buried within the walls of Delgatie. One of the bedroom walls was taken down because of this, only to find a crouched skeleton dressed in black cloth.
Afterwards, the monk's ghost was haunting the castle to the extent where a minister came to perform an exorcism!
A hotspot for the supernatural, this 700-year-old castle is home to the ghost of a six-year-old boy whose laughter can be heard echoing around this ancient site. One of Drum's resident ghosts has even been captured on camera!
This haunted fortress may be one of the region's most beloved landmarks, but that doesn't stop it from feeling eerie at times. There has been reported sightings of a young woman in a green dress who looks for her lost children, before vanishing through doorways.
Much like Castle Fraser, Fyvie also featured on 'Most Haunted' as this is simply a popular hang-out spot for all things that go bump in the night. The Green Lady, The Grey Lady, and a ghostly trumpeter all lurk in the halls of this landmark.
The Green Lady's origins are particularly creepy – said to have been starved to death by her husband for failing to provide a son, Lilias Drummond would return to Fyvie on the wedding night of her husband's second marriage. Blood-curdling screams could be heard outside the marital chamber and come morning, Lilias' name could be seen carved into the castle walls.
Image provided by Hidden Scotland.
Famously known as the inspiration for Bram Stoker's chilling tale of Dracula, that's only the start of this beloved landmarks haunting past and present. The crumbling ruin, which must be explored with caution, is far from abandoned... It is said to be haunted by the wandering ghost of Victor Hay – the 21st Earl of Errol who passed away in the 20th century. As well this, there have been many sightings of WWII soldiers marching around this clifftop grounds.
When visiting, keep to the surrounding paths, stay away from cliff edges, and do not climb on any of the castle structure. Do not take any unnecessary risks
Aberdeen's paranormal activity
Look out for Jake, the somewhat mischievous and friendly spirit who wanders His Majesty's Theatre. Often spotted dressed in a brown dust coat, 'Jake' or John Murray was killed in an accident in 1942. Legend says that John was decapitated by a spinning winch handle whilst leaning over to apply a brake for the stage hoist.
Jake is said to play tricks on staff and theatre attendees, with others reporting locations throughout the building that feel cold where it should be warm.
Image provided by Hidden Scotland.
9. Ma Cameron's
Dating back to 1746, Aberdeen's oldest pub was bound to be home to a few unwelcome guests! Many people feel like they are being watched when enjoying their pint – even when the bar is empty. There is a local tale that tells the story of a painter and decorator who was carrying out maintenance work where he was met with three loud knocks coming from a locked, supposedly empty room.
The man knocked three times in response and was immediately answered with three more raps! Unsurprisingly, the man fled the pub in terror.
Who knew that a price list could be so precious to a ghost? When the owners moved an old board, they ignited a trail of unforgettable paranormal experiences.
Items would fly across the bar, cold spots could be felt in random places, all whilst people felt an uncomfortable presence. One day, an eerie voice was heard demanding the owners 'PUT IT BACK'. The price list was returned to its place to the delight of the ghost, causing all strange happenings to come to an end.
One of the city's oldest buildings, The Tolbooth Museum was formerly a holding place for prisoners awaiting trial, as well as a general prison. The Tolbooth has a dark and disturbing history that includes executions, murders, deaths from torture, as well as famous inmates such as Janet Walker. Janet was a 17th century woman convicted of witchcraft, resulting in her being strangled and burnt to death.
With this miserable past, it's no surprise that this museum is now home to several ghosts.
Currently closed to the public for renovation, visitors can still wander past the beautiful granite architecture, there's sure to be a chill in the air. 
12. Union Street
The 'Clencher' is reported to be the ghost of a little girl who grabs the arms of people walking down one of Aberdeen's busiest streets. Is she looking for help? One can only guess!
Image provided by Hidden Scotland.
Haunted hotels
Just a few miles from Aberdeen, this beautiful 19th century mansion is packed with character – and ghosts! Referred to as 'The White Lady', this spirit lurks by a painting of the previous owner's wife, Katherine Ogston.
This mansion was purchased by James Ogston in the 19th century – recognise the name? It turns out that the Ogston's haunt more than one location.
James is said to have purchased this building for his mistress so they could meet whilst he lived across the river with his young family at – you guessed it – Ardoe House.
Norwood is apparently haunted by the two lovers and James' vengeful wife who haunts the main stairs, searching for the mistress.
Other Sightings
Nowhere is safe from the paranormal, as even Britain's second-tallest mountain. Ben Macdui, standing at 4,295 feet, has a supernatural history. Lurking in the mountains is what locals call 'Am Fear Liath Mòr', Gaelic for the 'big grey man of Ben Macdui'.
A terrifying, yeti-like creature haunts the summit, and is said to stalk those that climb the mountain. There are numerous accounts of people hearing footsteps crunching in the snow behind them as they scale this Munro.
Spirits are said to stalk staff through the corridors of Haddo House, whilst others report that the locked attic doors have been seen shaking violently – enough to spook even the bravest of people!
Haddo's most famous ghost is the red-haired Lord Archibald Gordon, who tragically died in a car accident in 1909.
17. The Wine Tower
A mysterious tower can be found close to the Museum of Scottish Lighthouses in Fraserburgh, which is home to a goosebump inducing legend.
The 8th Laird's daughter was imprisoned upstairs in the tower, whilst her lover was locked below. A storm drew in and flooded the bottom chamber, leading to the drowning of her lover.
Distraught at this loss, the poor woman leapt to her death from the window, and now haunts the grounds surrounding the castle, particularly during stormy weather.
Image provided by Hidden Scotland.
Do you dare explore these haunted locations?
Are these true accounts or just urban legends – why not see for yourself by exploring these landmarks at the spookiest time of year? We hope you all have a wonderful time celebrating Halloween and don't worry – ghosts aren't real (famous last words).