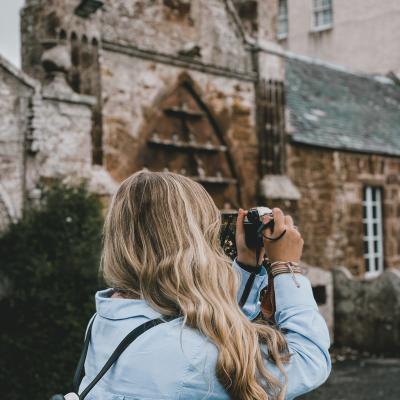 Rediscovering Turriff and Banff
4 August 2021
A couple weeks ago, I was lucky enough to be given the chance to rediscover a couple of Aberdeenshire towns that are very near and dear to my heart (Ellon, Oldmeldrum & Inverurie). I had so much fun, that VisitAberdeenshire has let me do it all again - and this time in an area that I had not yet explored! Come spend the day with me in the northern Aberdeenshire towns of Turriff and Banff. 
Morning in Turriff
My day started off on an ultimate high. If there are three things I've gained a massive appreciation for since moving to Aberdeen, it's nature, castles, and a good cup of tea. Our first stop, Delgatie Castle, was the perfect amalgamation of all three.
When driving up to the estate, you are met by a short walk through a beautiful garden before being greeted by the castle. For £8, you can roam free within the castle and learn about each room as you climb the winding staircase. Delgatie Casle was most recently the home of the late Captain John Hay, and it was built in the early 1000s. A definitive highlight was standing in the same room that Mary Queen of Scots stayed in for three days following the Battle of Corrachie in 1562 - I mean, how cool is that? Cameras aren't allowed inside, so you will have to visit to see all the lush rooms for yourself!
After feeding your brain with rich Scottish history, you can visit their cosy Tea Room for some home baked goods, lunch, or afternoon tea. I opted for a classic cream tea as I can never say no to a freshly baked blueberry scone with jam!
Next, we drove back into town and took a stroll around the Turriff Boating Pond. This pond is home to many ducks and ducklings, and is extremely picturesque on a sunny day. Top Tip: During the summer months you can hire a pedalo. If that doesn't sound like the most perfect Notebook-esque date, I don't know what does!
Lunch at Celebrations of Turriff was a fantastic surprise. Something I've learned about Aberdeenshire is that you can find some of the best food in unexpected places - and this is exactly that. Celebrations is an independent family owned department store, with an amazing café restaurant in the back. You will find the finest home cooked comfort food on the menu that will definitely have you planning your next trip back for more.
Afternoon in Banff
A short drive to the northern coast will take you to the historic town of Banff. We spent the afternoon ducking into some quirky independent shops. Starting at the Little Treasures Toy and Dollhouse Museum, I took a trip down memory lane as I revisited my favourite games and toys from my youth. Complete with a little play area, this is a great stop if you have young ones in tow!
A Banff standout for me was Vanilla Ink: The Smiddy. They are a Social Enterprise bringing silversmithing and jewellery opportunities to emerging makers and disadvantaged young people in Scotland. Not only can you purchase or commission gorgeous handmade pieces, but you can sign up for a jewellery or silversmithing class. I will definitely be keeping that idea in my back pocket when I'm thinking up birthday present ideas!
From there, I took a stroll to Banff Links Beach to soak up some last minutes of sunshine before dinner. On a hot summer's day, I can't think of a place I'd rather be - soft sand, with waves rolling in and a view of the harbour in check, it truly is a coastal paradise.
The Banff Springs Hotel is a must for anyone day tripping to the North East coast, or doing the iconic North East 250 drive. I felt very lucky to be headed there for dinner to complete my exciting day out with some mouthwatering dishes. Between the Yorkshire pudding starter that sat atop black pudding and haggis, and the Scottish cheeseboard to finish, it felt like we were given a tour of Scotland with our taste buds!
Aberdeenshire never fails to wow me with what it has to offer, and I feel extremely privileged to have been given the opportunity to explore Turriff and Banff. What Aberdeenshire towns will I rediscover next?