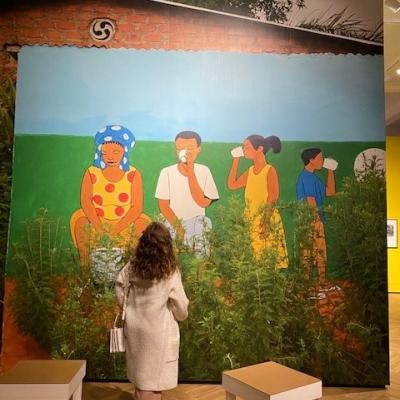 Rediscovering the city's attractions
25 August 2021
If the last year has taught us anything, it is to truly appreciate what's on our doorstep; being an Aberdonian quine I was thoroughly excited when VisitAberdeenshire sent me through a jam packed itinerary to rediscover the very best of the city with my family. So, off we went one sunny Saturday morning all ready to explore.
First stop on our day was Corner Tree Café, now I've known about this cute quaint café for a while (have you seen their afternoon teas?) but have never had the chance to pop in. Bright, airy, lots of greenery and local produce, this was definitely my kind of  place to hang out! I decided on the avocado, broccoli, spinach, mango, lime and ginger smoothie bowl and it did not disappoint! Tempted by the specials board we even took away some 'funcy pieces' to have at our next destination. 
Not far from the café is Johnston Gardens, definitely a hidden gem in Aberdeen that not many people are aware of. It's super tranquil and an escape from the hustle and bustle of the city, with its large pond-full of cute ducks, plentiful shrubs and trees and its most iconic feature, a beautiful blue bridge. It's such a lovely space to relax and there's even a little play park for the wee ones. I'd definitely recommend a visit in the autumn just when all the leaves are turning.
Our next stop of the day was at The Gordon Highlanders Museum - a 5-star VisitScotland awarded attraction in Aberdeen! Full of fascinating history and tales of the extraordinary men who made one of the finest regiments the British Army have ever seen - seriously these guys are heroes! The highlights for us were the outdoor 'mind yer heid' trenches, and the exceptional service from the very knowledgeable staff and volunteers. We will definitely be visiting again in the very near future.
Feeling peckish after our busy morning, we headed to the family-owned Kirk View Café & Bistro to try out their Scottish tapas menu. With all dishes being prepared daily with the freshest local ingredients we were definitely in for a treat and tucked into some haggis bon bons, mini cheeseburgers, haddock strips, paprika halloumi fries (the star of the show) and a variety of bruschetta, all washed down with some cheeky mocktails.
Onwards to the newly refurbished Aberdeen Art Gallery, home to one of the finest art collections in the world; they have also recently been awarded the winner of the most prestigious museum prize, the Art Fund Museum of the Year 2020 winner. We have visited a few times already but we were looking forward to seeing the new British Art Show 9 exhibition. With over 18 galleries to discover throughout, and many interactive activities for all ages to get involved with too there is definitely enough to make use of a whole afternoon.
Next up was dinner and we were heading to Vovem - they promise a 'unique experience and authentic atmosphere that Aberdeen has never seen before' and boy they did not disappoint! After a starter of the finest bread and butter board I've ever tasted in my life (yes I know, big statement) I went for the miso aubergine steak with truffle croquettes, finished off with the white chocolate crème brûlée, alongside a cocktail selection to die for! I think I have found my new favourite restaurant in the city.
To round off the trip we headed to the peaceful Aberdeen Beach which was as stunning as ever!