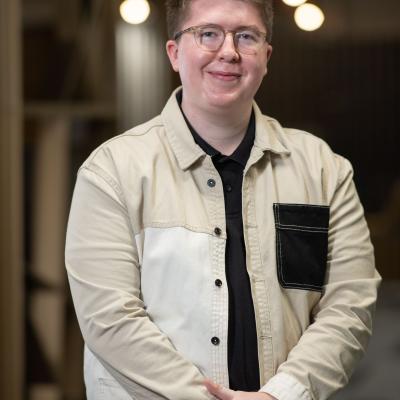 Our Aberdeen is your Aberdeen
27 March 2022
Aberdeen is a compact city with wide open spaces. A place where culture and history collide and sparkling granite architecture is as eye-catching as the street art which makes the city pop with vibrant colours. You can't sum up Aberdeen in just one word, but here are a few to give you a flavour of what to expect from this great city by the sea.
A is for Ancient
Aberdeen has not one but two old towns, both equally beautiful and both completely different.
First we have Old Aberdeen with its cobbled streets and lush greenery, it's a truly enchanting place to go for a stroll back in time. Start your visit to Old Aberdeen where it all began at St Machar's Cathedral, a 15th century fortified cathedral a with heraldic ceiling, twin spires and glorious stained-glass window, which also happens to be the oldest building in active use in Aberdeen. Make sure to visit the University of Aberdeen where you'll be blown away by the grandeur of King's College, built in 1495 making it Scotland's third oldest university and the fifth oldest in the world!
Next up is Footdee, known locally as Fittie, where you'll get a real sense of the city's fishing heritage. Huddled along the beachfront, this charming mid-19th century is as colourful as it is photogenic. All of the cottages face inwards with their backs to the street to protect them from the sea.
Please remember that Fittie is a small residential community. Please respect the privacy of residents when you visit.
B is for Bold
Picture bright, colourful and thought-provoking artwork splashed across the city centre because in Aberdeen, the city is the canvas! Since 2017, Aberdeen has become a street lovers paradise as dozens of murals coat the city walls thanks to Nuart Aberdeen and Painted Doors. From local to international artists, you will discover a collection of artworks unlike any other.
E is for Energetic
You don't have to venture far in Aberdeen for an opportunity to embrace the outdoors. Feel the wind whip past your face as you pedal through vast woodlands right on the city's doorstep at Tyrebagger Forest. If you prefer a more leisurely cycle you can admire the beachfront on Aberdeen's Promenade or did you know you can start your journey on The Deeside Way in the heart of the Granite City? 
R is for Radiant
Home to an array of award-winning parks and gardens, Aberdeen is full of lush greenery and glorious floral displays for locals and visitors to enjoy. For a pop of colour, head to Hazlehead Park where you'll find two beautifully maintained rose gardens that are sure to amaze before heading to Johnston Gardens nearby. A photographer's paradise, Johnston Garden is a beautiful landscaped garden featuring waterfalls, ponds, and a very picturesque bridge. But don't just take my word for it, it just so happens that Aberdeen is frequently nominated for The Royal Horticulture Society Britain in Bloom Competition. The city has previously taken home the accolade over 10 times.
D is for Distinctive
Standing proud in Aberdeen is an imposing building that is difficult to miss now would you want to. Marischal College is the second biggest granite building in the world. For the ultimate way to experience it pop to Mackie's 19.2, only a stones throw away in Marischal Square, for an ice cream to go, before you find a perch to sit back and admire Marischal College in all its glory.
E is for Elegant
Dress up for a night of fine dining with a touch of class. Aberdeen is complete with an array of fantastic restaurants plotted throughout the city, including The Silver Darling which serves up delicious seafood dishes with a view of Aberdeen harbour.
E is for Enlightening
Broaden your mind and be inspired as you visit Aberdeen Art Gallery. Now re-opened following a multi-million-pound redevelopment, the gallery houses one of the finest art collections in the UK. Discover over 700 years of priceless pieces including work by Raeburn and Monet.
N is for Natural
There are not many places where you can find miles of golden sandy beach only a 10-minute walk from the city centre in The Granite City you can. That in itself is pretty quirky but throw in the fact that we have urban dolphins that leap at the harbour mouth and seals sunbathing on the sand at the mouth of the river and you've got something really special.
We hope this blog has inspired you to visit the many landmarks of Aberdeen. Start planning your trip by clicking here.