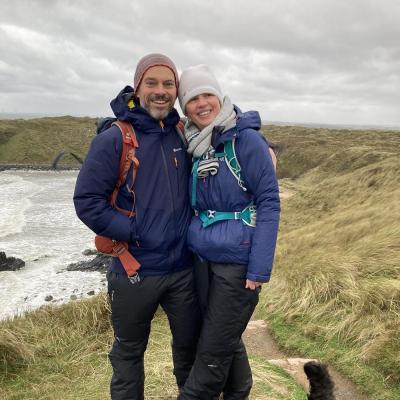 Family walking adventures in Aberdeenshire
27 January 2021
Aberdeenshire is well placed for hiking adventures, from coastal trails to mountain tops. Our children have been out in the hills since they were old enough to walk, not always full of enthusiasm but they did learn to love it!
So where can you take the family for a hiking adventure in Aberdeenshire?
Bennachie is a great introduction to hill walking. We are there a lot through the year delivering navigation courses and it is always popular with families. One tip I would give though is there are less steep ways up Mither Tap than the one sign posted from the Visitor Centre carpark. I always say that's the way to put children off hill walking! Try the route along to Heather Brig and up via the southern path through the Monymusk Triangle. A stop off at the Centre is recommended, look at the informative displays, chat to the staff and have an ice cream or coffee!
https://www.instagram.com/p/CHbEm10nNfl/
Aberdeenshire has excellent coastal walks. One of these starts at the Forvie National Nature Reserve which is rich in history and has a wide variety of wildlife too. Visit the old Kirk at Forvie before continuing to the beautifully hidden, Hackly Bay (be careful near the cliff edges). The picturesque village of Collieston is not too far and you can also continue to the dramatic Slains Castle. Make the day as long or as short as you like and coastal walks are best finished off with a fish and chip supper!
https://www.instagram.com/p/CIoZzuon-4h/
Sleeping out under the stars?
Whilst a night under canvas might terrify some parents it is easier and more enjoyable than you think! Trek up one of Aberdeenshire's remote glens, pitch up and cook a meal, leaving a lasting memory. Take some advice, or go with an outdoor company like ours, then it should be a good memory! Remember to leave no trace and follow the outdoor access code. One benefit of self-sufficiency camping is that you can spend more on other things, perhaps a night in one of the many excellent hotels in Aberdeenshire for the last day of your trip? If the thought of camping is too much then a happy medium could be a glamping pod.
https://www.instagram.com/p/CCtjKz5HTxb/
Wherever you go on your family adventure, it is well worth taking some time to plan and maybe limit your Bear Grylls type enthusiasm! Try not to take on anything that might put the children off in the future. Plenty of snacks and games along the way are good idea. Perhaps take some binoculars for watching the wildlife, identification cards for paw prints, treasure hunts, a pack of cards for the tent or for those a bit older make it a challenge with rewards! Remember to take the time to explore, look for birds, squirrels, different types of flowers and mosses, then your connection with the outdoors will naturally evolve.
Before you go up any hill you should let someone know where you are going, have the right equipment and have the skills to navigate your way around the hill. You should also know the code before you go too.
For my favourite hills in Aberdeenshire see here. Find out more information about Hillgoers.