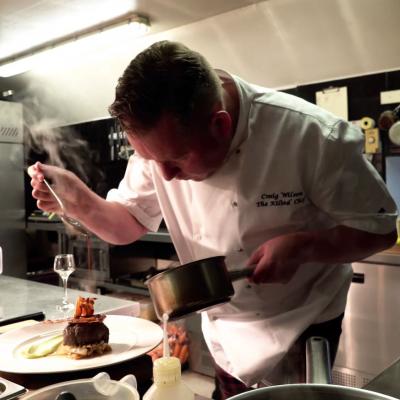 Christmas Recipe from Eat on the Green
14 December 2018
RUSTIC ABERDEEN ANGUS BEEF AND TATTIE CHOWDER WITH ALFORD OATMEAL SKIRLIE AND BRUSSEL SPROUT BREAD ROLLS
Soup
50g Beef Dripping
1 Medium White Onion (roughly chopped)
1 Leek (roughly chopped)
300g Carrots (roughly chopped)
500g Potatoes
400g Beef Cheek
800ml Beef Stock
METHOD
Place dripping into heavy bottom pan, add all vegetables and gently sweat for 5 minutes without colouring.  Add stock and simmer for 20 minutes.  Add whole piece of cooked beef cheek and continue to simmer for further 20 to 30 minutes.  Season to taste.
Bread Rolls
250g Strong White Flour
100g Sea Salt
10g Fresh Yeast
150g Brussel Sprouts
150g Skirlie
METHOD
Place flour, salt and yeast into mixing bowl with shredded raw brussel sprouts and add warm water to mould the dough.  Add skirlie, mix and place into a loaf tin or divide into individual rolls.  Brush with egg wash and cook for 30 to 35 minutes at 180 degrees.
Skirlie
150ml Beef Dripping
Knot Butter
Half Onion (finely diced)
Salt and White Pepper
200g Medium Pinhead Alford Oatmeal
METHOD
Melt dripping and butter in pan with onion and seasoning.  Simmer for 5 minutes until onions are soft and stir through oatmeal.  Check seasoning.  Any family heirloom recipes should be used in the name of skirlie … Granny knows best!