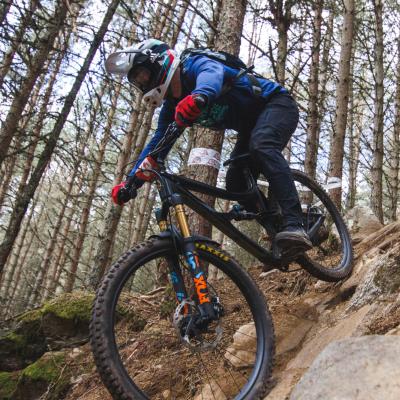 My top cycling spots in Aberdeenshire
8 July 2019
I have been riding bikes for a long time, in a variety of countries at various times of the year both recreationally and in events. I think Aberdeenshire is right up there with the best riding locations – from our amazing environment to our famous local hospitality we have everything needed for bikers to have a great time! We have skills parks and big mountain epics, race worthy enduro trails and leg burning cross country loops, mellow little loops and bikepacking epics – in short, something to suit every rider!
Some of the gems to be found in Aberdeenshire are best sought out with a local guide or at the very least with some guidance from one of our local bike shops to point you in the right direction. Here are just some of my top suggestions:
Tarland Trails & Aboyne Bike Park
These two facilities provide the perfect starting point for your visit to Aberdeenshire or your first forays into mountain biking. Purpose built so they are rideable all year round you can practice all the essential skills on the pump track and blue graded descents before progressing onto Tarland's Red and Orange lines and the jumps in Aboyne. Easily linked up via the off road Tarland Way cycle route they are perfect for a family day out.
https://www.instagram.com/p/BucOBedAYST/ 
Ballater
The stunning village of Ballater is an ideal base for biking adventures with a range of cafes, bike shops and accommodation surrounded by trails in every direction! Local knowledge is the key here and while you'll find some amazing opportunities using online resources only the locals can show you the secret single track! Perfect for a morning ride followed by café lunch and more miles in the afternoon.
https://www.instagram.com/p/Bw2fCYch0cv/ 
Pitfichie
Pitfichie could be called the home of both downhill and enduro racing in the North-east having hosted local and national level events in both disciplines. A stunning location featuring a mix of flowy single track down Cairn William, rough downhill tracks with lots of granite rock features and an abundance of enduro trails mixing the best of both!
https://www.instagram.com/p/BzJjzA-HGVA/
Loch Muick
Earn your descent with a ride/walk/hikeup at Loch Muick or one of our other big mountain descents. All your effort will be rewarded with a technical challenging descent back down towards the Loch with the option of a quick dip in the cooling waters. An epic experience!
https://www.instagram.com/p/BqNhFhYgo6k/
Glen Tanar
In the heart of Royal Deeside Glen Tanar can be your gateway to bike adventures on any scale. From a mellow ride around the estate taking in the sights, an adrenalin fuelled session of descending or the staring point for an all day adventure into the hills there's no better place to start and few more picturesque places to finish a ride!
https://www.instagram.com/p/BzfMkR5AM0o/ 
This just represents a snippet of what is available to mountain bikers here in Aberdeenshire all of which is enhanced by our network of bike shops, bike friendly businesses and local Trail Association working to keep trails in tip top condition (aberdeenshiretrail.org/).
If this has got you interested why not also check out:
If you have any questions about mountain biking in Aberdeenshire, please get in touch with me at will.clarke@scottishcycling.org.uk - I am here to help!