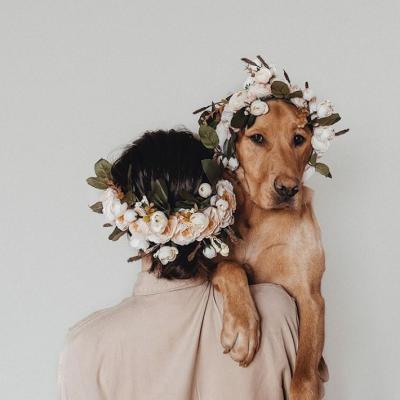 An escape in Aberdeen and Aberdeenshire
9 October 2020
The following blog post has been produced as part of a paid collaboration wit The Slow Traveler who visited Aberdeen and Aberdeenshire before COVID-19 restrictions were in place. 
Let me tell you where I am, what I can see… I'm sitting wrapped in a blanket on the little porch outside my cabin in the woods. It's a good-sized cabin, kitchen and lounge, very cosy. The wood-burning stove is crackling away. The old record player is playing Fleetwood Mac. And my dog Lenny is snoring on the rug. I'm sipping a dram of whiskey, and I've just lost a very intense game of Cluedo.
To my right is another little cabin, the Wash House, my bathroom, and next to that is my bedroom, a 1950s Airstream caravan with a giant comfy bed. A stream runs right through here, so the only sound is the sound of running water. In front of me, the wood-fired bathtub is puffing smoke from its chimney, the water warming slowly, nighttime setting in slowly. This place is called The Saw Mill, and it's part of Glen Dye Cabins and Cottages, just outside the Cairngorms National Park. I'm writing this on the last night of my trip around Aberdeen and Aberdeenshire.
I've always been obsessed with road trips, just getting up and going, driving anywhere, everywhere, as far as possible and back again. So I jumped at the chance to spend a few days roadtripping around this part of Scotland. My dad's Scottish. Growing up, I spent a lot of time here. More recently, I've had holidays in the Borders and in the far north. But I'm embarrassed to say I knew almost nothing about Aberdeen and Aberdeenshire. I wanted to put that right.
The first day, I had a walk round Footdee, this lovely old fishing village by the harbour in Aberdeen. All the houses have their own "tarry sheds". Some sheds seemed to have been converted into cottages, or artists' studios, or workshops, but the best ones looked like little dens, somewhere to go for a quiet cuppa and a read of your book. If any Footdee residents are reading this: please can I come and live in your tarry shed? I'm tidy, quiet, and my dog is relatively well-behaved.
I spent the night at Meldrum House out in the countryside, highland cows in the fields, deer in the woods. I stayed in one of the turret suites. The turret was like a little nook in the corner of the room with a table and chairs and a good view out the window. I sat there very happily with my decanter of Glen Garioch whisky, before going downstairs for dinner. I love a good hotel bar, but Meldrum's 800-year-old Cave Bar is something else. It looks exactly how it sounds, low ceilings, exposed stone walls, and a massive selection of whiskys.
Day two, I took a drive along the coast to see some of Aberdeenshire's fishing villages. My favourite was Crovie, just a single row of houses standing with their backs to the cliffs, and their front gardens overlooking the North Sea. There aren't any roads to the village itself. Villagers have to wheel supplies down from the clifftop to their houses on the shore. Next, I went to Craigievar Castle, the pink castle. This is one of the few places I'd already visited in Aberdeenshire – I love photographing here. They say it was the inspiration for Walt Disney's Cinderella Castle, but I think Craigievar is much prettier. Back at Meldrum House, Lenny had taken a real shine to the highland cows. He sat staring at them out the window, this one cow with huge horns and a trendy fringe staring right back at him.
My last day full in Aberdeenshire, I visited Dunnottar Castle, ruins of a fortress right on the edge of a 200ft cliff. George RR Martin took a lot of inspiration for Game of Thrones from places in Scotland and from Scottish history, and it doesn't get much more Game of Thrones-y than Dunnottar. I stopped for a "quick lunch" at The Flying Stag, part of The Fife Arms in Braemar, but ended up staying all afternoon. I walked off the amazing venison burgers and Scotch ale by taking a tour of the place. It really has to be seen to be believed, this beautiful old building with beautiful old furniture, lots of antique wood, lots of tartan carpeting, but packed full of contemporary art, murals on the walls and ceilings, and thousands and thousands of unusual artefacts and curios. It's a photographer's dream. I didn't want to leave. The Fife Arms is now firmly top of my list of places to stay. Magic.
Let me tell you where I am, what I can see… I'm writing this lying in the wood-fired bathtub here at Glen Dye. The water is nice and warm now. I'm surrounded by spruce trees and pine trees all strung with fairy lights. It's nighttime, the sky filling up with stars. There's time for one last dram of whisky, and one last game of Cluedo. I'm writing this on the last night of my trip around Aberdeen and Aberdeenshire. But I'll be back.
Keep up to date with The Slow Traveler over on Instagram.