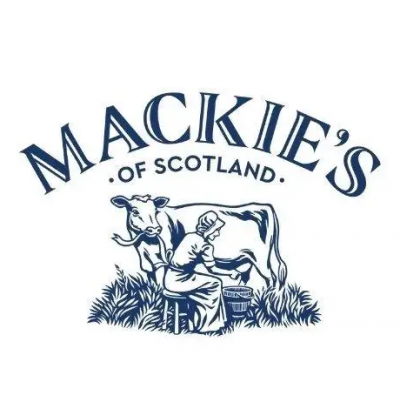 A Taste of Summer with Mackie's of Scotland
15 July 2022
This summer we have been celebrating Majestic Aberdeenshire - the home of above and beyond, and cuisine that will have you coming back for seconds.
A fine example of the beloved North-east cuisine is Mackie's of Scotland whose ice cream and chocolate are so closely tied to the land it is made on. Mackie's "Sky to Scoop" ethos sees the wind and the sun provide the energy used to run the diary, while the sun and the rain grow the crops, which feed the cows, who produce the milk and cream which goes into Mackie's delicious ice cream and chocolate. Mackie's believe that less is more and let the natural ingredients in their products shine through – making simple delicious.
Credit: Mackie's of Scotland
Mackie's is also tied to Aberdeenshire by long shared history. The Mackie family have been farming at Westertown farm in Aberdeenshire since 1912. Over the years, the farm has seen many changes, as the country, times and technology surrounding it have changed. Before Mackie's started making ice cream, Westertown was a typical dairy farm selling milk locally. The Mackie's dairy farm had around 80 milk roundsmen delivering fresh milk around the Aberdeenshire area. As people began to buy their milk from supermarkets, and as the demand for skimmed and semi-skimmed milk rose, Mackie's found themselves with an excess of thicker milk and cream.
Credit: Mackie's of Scotland
In wondering what to do with this, Mackie's came up with making ice cream. And so, in adapting to the demands for changing milk palates, Mackie's delicious ice cream came into being! The first tubs of ice cream were made in 1986 and were sold in the local shops surrounding the farm. By 1994, the popularity of the ice cream brought enough confidence for Mackie's to commit completely to ice cream and the milk retail business was sold to Robert Wiseman's dairies. Now, Mackie's make over 13.5 million litres of ice cream a year. Despite changes over the years, one thing that has remained the same is that Traditional, which has no added flavours, remains the best-seller, with a recipe almost exactly the same as it was back in 1986.
Mackie's of Scotland are so deeply ingrained in the food and drink culture of the area and bring the UK some of their favourite treats. You could win some of these delicious treats for yourself by entering our prize draw, where there's a year's supply of ice cream, an unforgettable break for two, and more to be won!