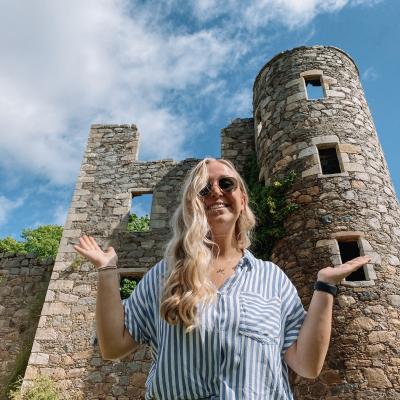 Rediscover your Aberdeenshire towns - Ellon, Oldmeldrum and Inverurie
16 June 2021
Castles and Segways and Yorkshire Puds, OH MY!
If the past year has taught me anything, it's that I am SO lucky to call Aberdeen home. I spent the majority of 2020 exploring the city, and as soon as travel restrictions lifted, I started to explore the dazzling Shire more and more. It didn't take long for me to realise that with so much beauty right at my fingertips, the urge to travel abroad was no longer something I yearned for.
When I was sent an itinerary to Rediscover Ellon, Oldmeldrum and Inverurie - the town I lived in when I first moved to Scotland - I could not believe how much I had been missing out on! There is a lot more to these quaint little towns than meets the eye, and I'm here to let you in on some of the best bits so you don't miss out like I did for so long!
Here's what my day looked like!
Morning: Ellon
An adventure-filled day must start with coffee and a good feed. This is a non-negotiable in my household! So of course, our first stop of the day was Coffee Apothecary. With an array of Scottish brews to choose from, and a menu that will have you eyeing multiple dishes, your taste buds will definitely get the kickstart they need! *Be warned, choosing what to eat may very well be the hardest part of your day*.
We went for the Garlic Mushrooms and the Savoury Pancakes. As a born Canadian, there was no way I could turn down the opportunity to try Arran mustard, chive & maple syrup sauce!
Next, we walked off our breakfast in the stunning Ellon Castle Gardens. If you manage to go on a beautiful sunny day like we did, you are in for quite a treat. While admiring the ruins of a 15th century castle in the background, you can wander among the 500+ year old ancient English yew trees and feel as though you are walking inside a beautiful painting.
Afternoon: Oldmeldrum
A quick drive to Oldmeldrum brings us to the action packed portion of our day at Lochter Activity Centre. An absolute hidden gem for anyone looking to try something new and have a laugh. We were signed up for the Segway Challenge and Clay Pigeon Shooting, which were great choices to get some friendly competition going.
Now, I may have lost miserably to my partner in both activities, but I had such a blast and will definitely be revisiting to try some of the other activities on offer (Go-Karting, Zorbing, Archery, Trout Fishing, and much more).
All of that excitement made our appetites come back in full swing, so luckily the Lochter Cafe is right there to satisfy your every craving. Having visited on a Sunday, I absolutely could not say no to the carvery option with all the fixings, and my partner went for the trusted battered chicken fillets - which I must say, may be the best we've ever had. I know, that's a bold claim…you're just going to have to try them out and see for yourself!
Evening: Inverurie
Our last Aberdeenshire destination for the day was Inverurie. Starting at the Garioch Heritage Centre, we wandered through the free exhibitions detailing history of the Garioch. Friendly volunteers were also available at every corner to offer some additional knowledge to enhance the experience.
Wanting to immerse ourselves in even more history, we ventured off to the East Aquhorthies Stone Circle just outside the city centre. A quick walk from the car park brings you to the 4,000 year old site where you can soak in the scenes amongst never-ending fields. Nobody knows why the Stone Circle was erected, but it sure is fun to try and guess what kind of rituals took place there!
With a couple hours to spare before dinner, we trekked down to the banks of the River Don to soak up some sun. Groups of friends and family were out picnicking and listening to music, and some were even floating down the river in inflatable rings - it felt like were were abroad on holiday!
To cap off the perfect day, we indulged at Fennel - Inverurie's best when it comes to fresh local ingredients and passionate staff members. A round of mocktails was followed by delicious rump steaks smothered in the most amazing peppercorn sauce, and finished with a duck egg custard tart and of course a classic sticky toffee pudding. WOW, what a treat!
If you think you've done and seen it all in Aberdeenshire, THINK AGAIN! Whether it be a tasty dish, a beautiful view, or a specific activity - I guarantee a new and exciting experience awaits!
Which Aberdeenshire town will you be visiting next?