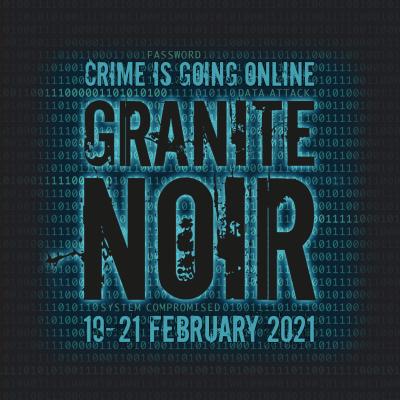 5 reasons you've got to virtually attend Granite Noir this February
15 February 2021
Aberdeen's international crime writing festival, Granite Noir, goes online this weekend with a series of talks and events with some of the best crime fiction authors from around the world.
Produced by Aberdeen Performing Arts, the festival is streaming for free on granitenoir.com between the 19-21 February and features Stuart MacBride, Val McDermid, Ian Rankin, Camilla Lackberg, Jo Nesbo, Attica Locke and many more.
Aberdeen Performing Arts Chief Executive, Jane Spiers, tells us the five things to know about Granite Noir ahead of the weekend.
1. It's online but staying true to everything that is great about Granite Noir
With a line-up featuring Stuart MacBride, Val McDermid, Ian Rankin, Camilla Lackberg, David Baldacci, Attica Locke, Jo Nesbo and many more, Granite Noir comes to you with a programme full of world class crime writers over one weekend.
2. A trip to Granite Noir is a trip to the North-east of Scotland
Aberdeen acts as the perfect backdrop for Granite Noir. The festival's roots are set firmly in the stories, history and heritage of the city and quite simply, it couldn't take place anywhere else. Even though we can't be there in person this year, be sure to check out the photography exhibition "North by North-East" at https://steppingin.space/ from Friday 19 February to see how Granite Noir and Aberdeen are intrinsically interwoven.
3. Discover new writers
An objective of Granite Noir has always been an opportunity to discover tomorrow's big names. Each year, the festival welcomes debut novelists and soon to be published writers to give them a platform to talk about their work. Be sure to tune in for "Bold New Voices" on Saturday 20 February with Femi Kayode, Susie Yang and Saima Mir to meet the future of crime fiction.
4. International connections
Aberdeen has strong international connections and this is always reflected in the Granite Noir line-up. The festival welcomes authors from all round the world with a particular focus on the Nordic countries to highlight the bond between the regions and the impact Scandi Noir has had on crime fiction. With the online format this year, the festival will come to you from the Norway, Iceland,
Sweden, Eire, USA, France and Namibia but with its roots firmly in the North-east of Scotland.
5. Granite Noir is for everyone
Granite Noir is a festival fully accessible for all to enjoy.  There have been BSL signed events every year to ensure those who are hard of hearing can enjoy the author events and this year is no different with nine signed performances. Family events and workshops are also a key part of the programme and ensure there are activities and educational opportunities for children and young people.
Visit granitenoir.com for more details on how to watch the events.