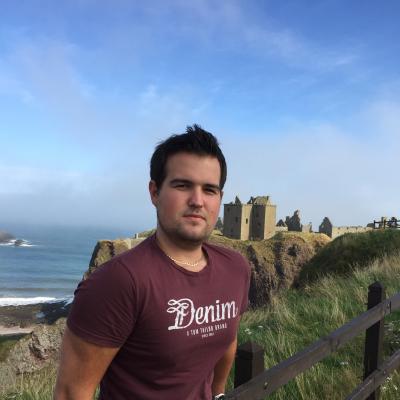 11 totally free things to do in Aberdeen
3 March 2020
Visiting Aberdeen on a tight budget? Well don't worry about it! As an Aberdeen native, I can assure you that you don't even have to spend a single penny in order to have a great time here. With this in mind, I'm now going to give you 11 free things to do in Aberdeen:
1. Visit Aberdeen Beach
Aberdeen's beautiful sandy beach is a real favourite and go-to place for us locals. It runs in a curved shape from the harbour entrance in the south to the mouth of the River Don in the north. One of the best things about the beach is its proximity to the city centre (not much more than one mile). It also has awesome amenities, including free public toilets.
The beachfront is the perfect place for a leisurely stroll. You can walk along the promenade, or along the sand, and breathe in the fresh, crisp Scottish seaside air. Lovely views can be had of the North Sea and of boats coming in and out of the harbour; on some days you can even see dolphins jumping around in the water, so remember to bring your binoculars just in case!
2. Explore Footdee
Visiting the charming old fishing village of Footdee is definitely one of the best things to do in Aberdeen! Footdee—also known as 'Fittie' amongst Aberdonians—was first developed as a planned community at the beginning of the 19th-century. It is positioned right next to Aberdeen harbour and beach, meaning a visit to Fittie can easily be combined with a trip to the beach.
Please remember that Fittie is a small residential community. Please respect the privacy of residents when you visit.
3. Go to a museum
My first recommendation is the Aberdeen Maritime Museum, which is located on the aptly named Shiprow - a historic street in the city centre. It is the place to go to learn all about the city's rich maritime heritage. Its most impressive exhibit is a 25ft tall scale replica of the Murchison Oil Platform. And fun fact: this is actually the world's largest oil platform model! Admission is 100% free. But there is an option to leave a small donation if you wish.
Another museum worth visiting is the Tolbooth Museum. It is attached to the Aberdeen Sheriff Court, less than a 5-minute walk from the Maritime Museum. The tolbooth was the main municipal building of the historic Scottish burgh. It was where tolls and taxes were collected, and where burgh councils held their meetings. But in addition, tolbooths also housed the local court and jail. The prison tower of Aberdeen's 17th-century tolbooth has survived to this day and has been converted into a free museum. A visit here will take you back in time as you step inside dark and gloomy 17th-century cells, some of which still feature original doors, padlocks and window bars. You will also see various displays providing interesting info on the history of local crime and punishment.
4. Check out Aberdeen Art Gallery
Recently reopened after a £34.6m makeover, Aberdeen Art Gallery boasts one of the UK's finest collections. It has 19 permanent galleries featuring the works of some of Scotland's most famous artists, including Henry Raeburn who once served as a portrait painter for King George IV. But it's not just Scotland's finest on display here—you can also see works by the likes of Joshua Reynolds, William Hogarth and Claude Monet. And like with the museums I mentioned above, admission is completely free.
5. Follow the sculpture trail
One of the other free things to do in Aberdeen city centre is follow the sculpture trail. There are 21 stops and along the way you'll meet legends such as Robert Burns, William Wallace and King Robert the Bruce.
6. Spend some time at Hazlehead Park
Head to the west side of the city and spend some time at Hazlehead Park. This is a large public park that first opened in 1920. It is surrounded by woods and has lots of cool paths and trails, making it popular with walkers and cyclists. Inside the park there are beautiful gardens, big fields, sculpted decorations and children's play areas. History buffs might be interested to know that the park actually sits on land that was once part of King Robert the Bruce's royal hunting forest of Stocket (back in the 14th-century).
7. Have a stroll through Johnston Gardens
This is another lovely park in the city's west end. Johnston Gardens is full of character with its ponds, streams, miniature waterfalls, rockeries, rustic bridges, colourful plants and huge trees. Such is the park's beauty that, in 2002, it won the Britain in Bloom Public Park Award!
8. Head to Old Aberdeen and see King's College
Exploring Old Aberdeen is an absolute must when in the Granite City and you can do this without spending a single penny. The best place to start in Old Aberdeen is at the University of Aberdeen's King's College campus. The university was founded in 1495 with the formation of King's College. It is the third-oldest university in Scotland, and the fifth oldest in the UK. More specifically, you want to make your way to what is known as the King's College quadrangle. The Gothic-style buildings here date from the 15th-century and formed the original components of the university. The highlight of this area is King's College Chapel; its stunning crown tower has become somewhat of an icon of the university as a whole.
9. Visit St Machar's Cathedral
This is one of my biggest recommendations in terms of things to do in Aberdeen! St Machar's Cathedral is also located in Old Aberdeen, less than a 10-minute walk from King's College. The history behind this place is incredible. It sits on an ancient site of worship first established in c. 580 AD by St Machar (whom the church is obviously named after).
The cathedral was formed in 1131 and went on to play a key role in the development of Old Aberdeen as a burgh. However, nowadays it is only a cathedral by name; technically it is now just a High Kirk ("kirk" is the Scots word for church, by the way), as it has not been the seat of an active bishop since way back in 1690. Entry to St Machar's Cathedral is totally free. But frankly, I would be happy even if I had to pay to see this special place!
10. Walk around Seaton Park
Right next door to St Machar's Cathedral is Seaton Park, another spot you can visit in Old Aberdeen without spending any money. It is a beautiful public park with plenty of green space and a river passing along its outskirts. You can come here to walk, play sports on its expansive fields, or simply relax and hang out with friends/family.
Oh, and one other thing . . . look out for something called 'Wallace Tower'. This is an early 17th-century townhouse that used to sit in the city centre. It was dismantled and moved (brick-by-brick) to its current position in Seaton Park back in the 1960s; this was done to accommodate a new retail development in the middle of town.
11. Watch seals at the Donmouth Local Nature Reserve
And finally, the last activity on my list of 11 free things to do in Aberdeen is watching seals at the Donmouth Local Nature Reserve. The nature reserve is a gorgeous beach site found at the estuary of the River Don. It is an amazing place to view seals and other wildlife going about their daily business.
So, there you have it . . . 11 totally free things to do in Aberdeen (and this is by no means an exhaustive list).
One final recommendation I have for you is to keep an eye on VisitAberdeenshire's 'What's On' calendar. You will often find free events listed there; examples include Aberdeen Jazz Festival and Nuart Aberdeen, an award-winning street art festival.