Kincardine Castle
Kincardine Castle is a private Victorian country house which holds a range of public events throughout the year including a pop-up cafe on the first Friday of the month (excl. Aug) where you can dine in the splendour of the Great Hall and enjoy a walk in the Castle gardens.
They also offer fishing on the River Dee and can arrange a variety of other country sports and outdoor activities on site or nearby. In addition, the Castle has three excellent marquee sites with stunning views across the River Dee valley, and has the capacity and infrastructure to host large outdoor events.
Kincardine Castle is delighted to be providing some of the finest cuisine in Aberdeenshire.  Rupert Holden was Chef de Partie at two separate Michelin-starred restaurants in London, La Trompette and The Glasshouse, while his wife Louisa was Head Pastry Chef at Theo Randall, London. They both moved to teaching cookery at Leith's School of Food and Wine and now they're in Royal Deeside.
Kincardine Castle offer bespoke private dining as well as a number of pop-up cafes and restaurant events throughout the year.
Their dining room seats 24 people, the great hall 56, and they can cater for up to 150 people in a marquee on-site.
Kincardine Castle is the private home of a Scottish Laird and his Lady. During your stay you will spend some time with them. Andrew & Nicky Bradford will share their extraordinary life with you in their 'Little Bit of Heaven' as one visitor described their beautiful house and gardens which stand hidden from public view on their 3,000 acre estate.
You will be treated like the Laird's personal guests and during your stay at the castle you'll find what Queen Elizabeth did in the Great Hall and how Tutankhamun, Macbeth, Guy Fawkes, Jane Austen, Alfred Brendel and Dracula fit into the story.
Dine with the Bradfords in the magnificent Dining Room surrounded by family portraits from the last 400 years – and hear their stories. The delicious food will be prepared by the Laird's personal chefs. Louisa and Rupert Holden are both professional and versatile chefs who've worked and taught in some of London's top restaurants and cooking schools.
Smell the fine oak panelling mingled with the hint of wood smoke from the log fire, the roses in the garden and the wonderful wines. Feel the smooth polished wood of a 340 year old table and finely balanced cutlery. Hear the chime of a clock that's been keeping time for over 330 years and the playing of the Steinway piano. Play it yourself if you want.
Taste not only the delicious cuisine but also sample some of the Castle's yummy food products and, of course, the wines.
Kincardine Castle is a private family home which only opens its doors by arrangement for exclusive tours, private dining, meetings and weddings. Accommodation for groups of six or more guests only. Discretely we provide world-class hospitality to discerning travellers.
Rooms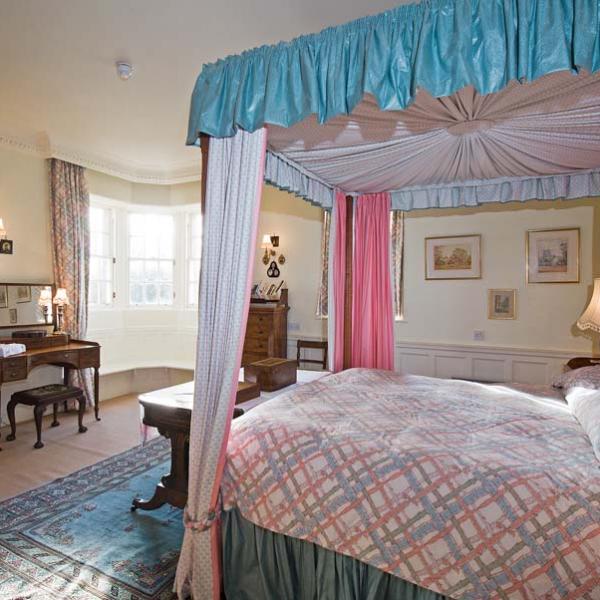 The Queen's Bedroom
Named in honour of a private visit in 1991. This fine room has no fewer than 5 windows with spectacular views from North-east to South-west. The four-poster bed was made by the laird.

Ensuite Bathroom with separate en-suite loo. Power Shower over bath.
8.2m2