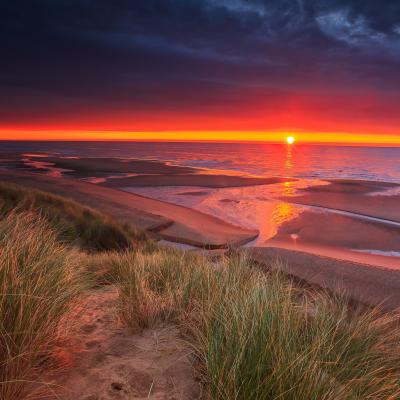 10 photo-stops you've got to make
19 October 2018
I have lived and worked in Aberdeen for over 22 years and in my spare time I capture the beauty of my hometown through photography.
I have spent the last six years exploring this part of Scotland's most-loved attractions and landscapes; at times I've been lucky enough to also stumble across some of the most stunning sights that I have ever seen.
I started with just a phone and an Instagram account but only one year later I had bought a professional camera and began to build a following which is now made up of over 13,000 people from across the world. My passion for this place has grown even quicker.
I'm now sharing 10 of my favourite places to help you also capture your trip to Aberdeen and Aberdeenshire:    
I am such an admirer of this picture-perfect beach setting that I have decided to capture its beauty in all the seasons - I will capture a total of 365 different photos over the coming year. Note that the sunrises are extraordinary here.
Thanks to its extreme cliff edge setting and crashing wave panorama, Dunnottar Castle is one of the most iconic, and most photographed, places in Aberdeenshire. Try capture it from a different angle for a whole new perspective on its scale.
3. Fittie
Would you believe me if I told you this quirky fishing quarter was just 10 minutes from Aberdeen's bustling city centre? It's like taking a step back in time – I love capturing the quaint outhouses and cobble streets found in this hidden gem.
4. Loch Muick
If you want to sum up Scotland in one picture whilst you visit, here you go. Wide shots. Immense mountains. Crystal clear lochs. And in winter, snow-topped peaks. If you're lucky you might also get the chance to test your wildlife photography skills as red deer are frequently spotted.
5. Crovie
Crovie, pronounced 'Crivie' by locals, is one of the most unique places in this part of Scotland. So unique that there is no phone signal (so you will have to upload your Instagram post when you return), no shops and even no roads! I recommend capturing the view from above to really portray the village's distinctiveness.
Roam through the great dunes of this nature reserve and you will find scenes like this. This is true tranquillity. I also recommend climbing up a dune (harder than you might think) to get a wider shots of the massive dunes.  
 If you want a photo sure to guarantee that 'wow' reaction, this real-life fairy-tale pink castle always grabs attention. And if you really want to wow your friends and followers, let them know that this castle is said to be the inspiration behind Walt Disney's iconic castle.  
You won't have to venture too far from the city centre for photo opportunities like this! This is Aberdeen Beach and no matter what time you visit, tide-in or tide-out, you'll be certain to grab that idyllic image.
9. River Dee
A timeless setting with the majesty of Royal Deeside encapsulated in one photo. Try visiting in Autumn as the leaves start to change colour – it will add a new dimension to your photo. 
10. Pitfour Lake
Take a picnic with you for this photo stop because you won't want to leave. The walks here are just as picturesque. I recommend heading to the Lake for sunset – this is when you will get the most colourful and dynamic images.
If I've inspired you to capture some of these incredible images make sure to tag me in your posts at @neily39 on Instagram and Twitter. Use VisitAberdeenshire's #visitABDN and #beautifulABDN too. Let me know if you find any more hidden gems whilst you are here – I am always on the look out for new places to photograph.