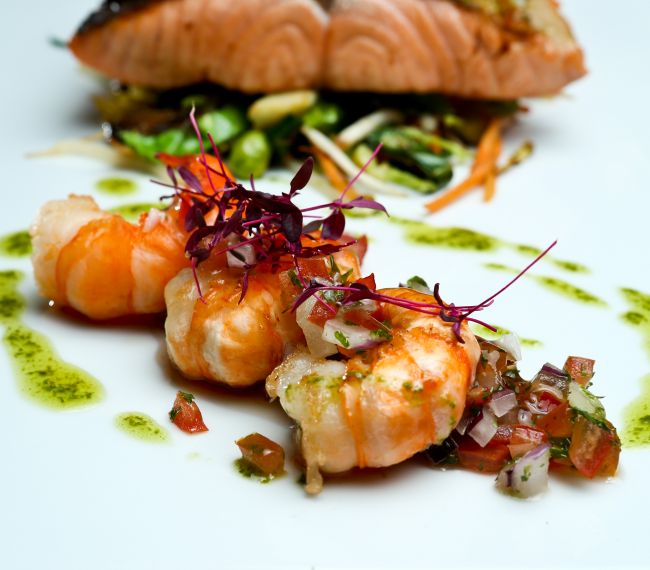 About 1906 Restaurant at HMT
Aberdeen's only in-theatre dining experience - offering dishes to suit a range of tastes. With our new and innovative head chef, we provide good value dining in a relaxed and unique environment.
An all day menu including daily £5 specials and well priced afternoon teas full of homebaked goodness. For evening, the emphasis turns to pre-theatre menus offering value, good quality food reflecting the theatre dining experience
We offer special theatre-related packages but you don't need to be going to a show to have a great night out at 1906. Our corporate suite is ideal for celebration tea parties or an informal intimate dinner party.
My mind drifted to another great work: "If music be the food of love, play on. . .", Shakespeare wrote at the beginning of Twelth Night. If you like music and food, you will love 1906. The service was swift and friendly. . .the portions were generous and everything was well-presented on eye-catching plates and dishes. What a great way to start our night. We noticed a small brass plate on one of the stalls seats donated by a theatre-lover. It said HMT was Aberdeen's greatest asset. After our night at the ballet and 1906, it was hard not to agree. 
       The Press and Journal, 9/2/2013, 28 out of 30.
Facilities
Wi-Fi • Disabled Access • Child Friendly
Listed under
Restaurant • Café • Coffee Shop
Drink Specialities
Wine • Beer/Lager • Spirits
Opening Times
Cafe
Mon-Sat: From 9.30am
1906 Restaurant
Mon-Sat: 10:30am-4.30pm (last orders at 4pm) for all day menu
Mon-Sat: 5pm-7.30pm for pre-theatre menu